Kalamazoo's new jazz listening space.
Generously supported by the John Stites Jazz Awards, this concert series brings some fantastic jazz performers to Southwest Michigan to perform in an intimate jazz club style venue. The venue is located in the Crawlspace Comedy Theatre in the Kalamazoo Nonprofit Advocacy Coalition (KNAC) building.
315 W Michigan Ave, Kalamazoo, MI 49007
Join us for our next concert!
Jazz in the Crawlspace is excited to present "Spin Cycle" from NYC. Since 2014, this contemporary jazz quartet has been bringing their original music to concert halls and clubs across the US and Canada. Co-lead by Scott Neumann and Tom…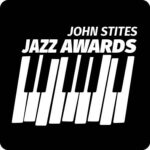 Special thank you to the John Stites Jazz Awards for generously supporting this concert series. We are proud to partner with them in their effort to bring world-class jazz to Southwest Michigan